Hiking in Steamboat Springs, Colorado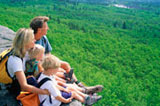 Steamboat Springs is a biking and hiking mecca. There is a trail for every ability and every adventure. The Steamboat Ski area as well as the Routt National Forest offer miles and miles of trails, each with its own spectacular beauty, from wildflower-filled meadows and mountain streams to gorgeous mountain peaks.
Over 40 miles of hiking and biking trails have been developed throughout Steamboat Ski Resort, and everyone from beginner to expert is sure to find their favorite trail. Whether you want to take the gondola up the mountain and enjoy the ride down or embark on the challenge of riding up the mountain, the spectacular views, wildlife encounters, and sheer beauty will keep you entertained.
All the local bike shops have trail maps and can suggest their favorite trail, either in town or in the surrounding area. They also offer supplies and guide books to help you on your adventure. In addition, there are rentals available at Ski Haus, Orange Peel Bicycle Service, and Steamboat Ski and Bike Kare.